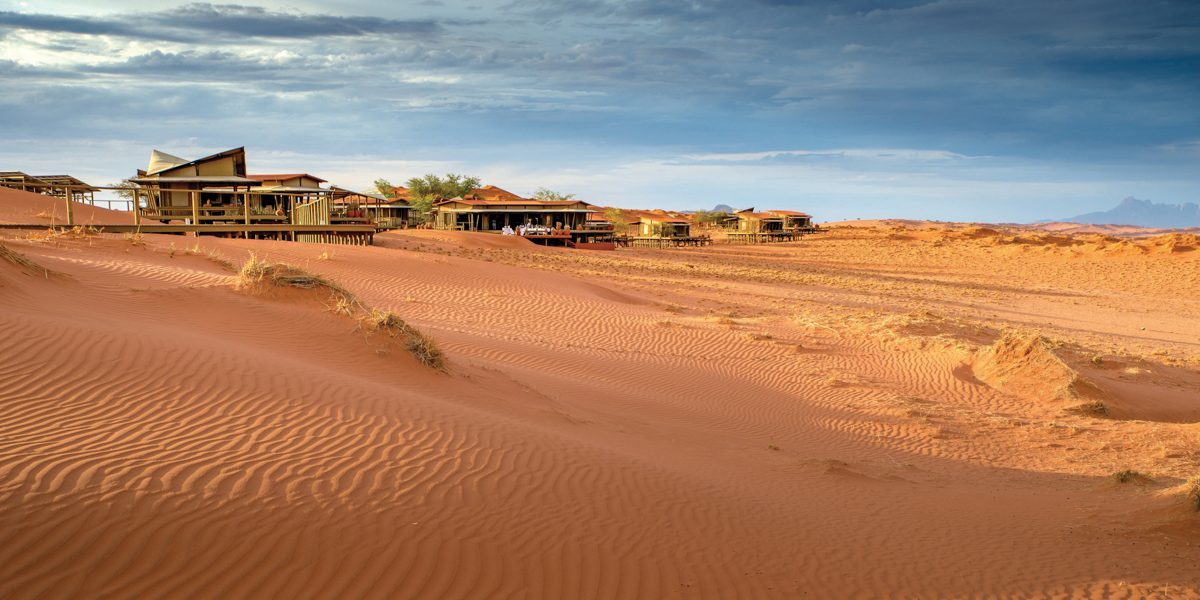 Our purpose is the pursuit of happiness, and Wolwedans exists to inspire a new way. If you are planning to visit one place in Africa, then it should be Wolwedans. 
Located in the heart of the NamibRand Nature Reserve, Wolwedans is more than just a collection of camps – it's a collection of dreams. The landscape and immersive experiences are simply out of this world, providing beauty to feed your soul, tranquility to clear the mind, and space for your imagination to run wild. Wolwedans maintains a healthy balance of People | Planet | Profit, and hence sustainability has been in our DNA from the get-go. It drives all our actions Past | Present | Future. Wolwedans' hallmark warmth and personalised service, combined with our commitment to preserving nature, will ensure a remarkable stay. Our lodges and activities provide a captivating glimpse into the desert's elusive grandeur and breathtaking beauty.
Positioned on the edge of a 250-metre high dune, Dune Camp offers breathtaking views across the NamibRand. Its lounge, dining area, and tea room are spread out across a series of interlocking decks, while the tented and wooden structures are designed to capture the cool breeze in summer and keep guests warm in winter. With a charm that appeals to travellers seeking a stylish yet down-to-earth experience, the camp's main areas are intimate, encouraging conversation between guests around the fire pit. Dune Camp can accommodate up to 16 guests in 8 spacious and comfortable rooms, including a tented family suite, and each private deck comes with a water filled silo or "Wolwedans Chiller" for cooling off in hot summer months. The family suite is located a short walk away from the main camp and features a lounge, spacious deck and outdoor bathrooms.
Plains Camp is the epitome of exclusivity in the Wolwedans Collection, catering for up to 8 guests in 4 spacious en-suite rooms. The villa's open-plan design, using canvas and timber, offers uninterrupted views of the endless plains, its structure blending effortlessly into the surrounding desert with canvas walls that can be opened up completely to allow the desert in, or closed for warmth and privacy. The villa offers a central lounge area, a study, living room, dining area, fully equipped kitchen, swimming pool, various decks and a "Sala" for siestas. Your experience is complete with a private guide and vehicle, house manager, and chef.
With a spacious en-suite bedroom that opens onto a pool deck and 'sala', guests can fully indulge in the surroundings of the NamibRand at the Mountain View Suite. Perfect for couples or families with small children, the suite can accommodate up to two adults in the bedroom and two children in an igloo tent or lounge area. Additional amenities include a private lounge, dining area, fire-pit, outside bathroom, sleep-out deck and plunge pool. The suite's design blends natural elegance with a comfortable, relaxed atmosphere, consistent with Wolwedans' traditional style. 
Boulders is our most secluded camp located around the base of a massive granite outcrop in the NamibRand plains, three hours south of Wolwedans. Boulders offers an intimate experience for up to 10 guests in five spacious tented rooms. Explore the deep south of the reserve through guided scenic drives, walking safaris, and e-biking on fat bikes. The camp's carefully choreographed three-night package, with fixed arrival dates every Monday and Thursday, creates a truly immersive and mindful desert experience. The leisure area is sheltered, featuring both a dining tent and a lounge tent, complete with an open fireplace and an incredible sundowner spot that overlooks the vast stretches of the NamibRand Nature Reserve. 
As part of the Wolwedans Desert Academy, this is our hospitality training facility. Staying at Desert Lodge contributes to the future of tourism in Namibia and Southern Africa in a long-lasting and sustainable way. Though some staff are students, the experienced managers and senior staff on-site ensure smooth operations. Raised on platforms above the dunes, the lodge's design combines wood and canvas to provide the comfort and protection of a permanent building, while reflecting the ambience of a tented camp. Nine spacious tented rooms are spaced apart and orientated to the environment, with each bedroom and bathroom overlooking a verandah and views of the desert and mountains beyond. Additionally, the lodge is family-friendly, with three tented family rooms that have an adjacent twin-bedded room.
Explore the remarkable desert environment and its diverse wildlife through a range of activities at Wolwedans. Whether on foot, horseback or by car, visitors can experience the wonders of the desert firsthand with interpretive scenic drives led by our resident field guides. Enjoy the thrill of horse-back riding through the undulating dunes or savour a picnic in the wild. Unwind with sundowners on the dunes or indulge in a candlelit dinner beneath the stars. For a truly unique experience, we offer horse-back safaris and leisure rides that showcase the magnificent natural beauty of the NamibRand Nature Reserve.
Guests at Wolwedans can embark on awe-inspiring scenic flights to the Diamond Coast and Sossusvlei, with departures available in the late afternoon or early morning. Additionally, for those staying three to four nights, a day trip by plane to the Fish River Canyon and Lüderitz can be arranged. 
Hot-air ballooning is a unique experience that allows you to admire the breathtaking 360-degree vistas of untouched plains and dunes of the NamibRand. After soaring silently for about an hour, you can celebrate this extraordinary adventure with a champagne breakfast at the landing spot.
Whether you prefer a self-drive, guided transfers, fixed air seat rates or private air charter, we can help you find the best option based on your group size, preferred travel times and other needs. Contact our Wolwedans Travel Desk to learn more and plan your perfect journey.