Pushing the limits and defying the odds: The Nedbank Desert Dash
It usually happens the moment I reach the top of the Black Mamba hill, just before the descent that will be followed by the dreaded Kupferberg climb. Up until that point you've been fuelled mainly by the adrenalin of an exhilarating start. But up there, looking down at where the gravel starts, and only ends more than 350 kilometres later, you begin to rethink your life choices… Why am I doing this again? It seemed like a good idea at the time. It even seemed like a good idea about 20 minutes ago when my system was still flushed with the power of adrenalin that makes you feel superhuman. But right now, on top of Black Mamba, knowing what lies ahead, I take a moment to wonder: Why do I dash?
In the parking lot at the Grove, though dark and looming, the energy is palpable. An anxiety and anticipation-rich fog in the air. Then the starting gun goes off and almost a thousand cyclists are out through the gate in a maelstrom of rubber on tar, shoulders brushing, almost-tumbles, and shouts and cheers from the onlookers. They're the smart ones in this scenario… Those onlookers. Because those one thousand idiots on bicycles streaming out of the mouth of the mall's underground parking lot as if the hounds of hell were on their tails have just set off on an unimaginable feat: 373 kilometres through the oldest desert in the world, in under 24 hours.
The Nedbank Desert Dash started in 2005 with only 44 participants tackling a route of 369 kilometres from Windhoek to Swakopmund. In the last 15 years, Namibia's biggest, most exciting and most challenging mountain-bike event has grown tremendously. This year, as with the last 4 years, nearly 1000 participants will take on the challenge.
Starting in Windhoek, the first stage of the race navigates the Khomas Hochland's twists and climbs and leads up Kupferberg Pass. From there the route follows the D1982 gravel road over hilly terrain and eventually down the Us Pass, ending in the Kuiseb River at Checkpoint 2. The third stage of the race is considered by far the most difficult. With the route criss-crossing valleys and rivers, this section is characterised by steep climbs and descents, over and over again.
From there cyclists cross arid, rocky and often corrugated terrains, entering Namib-Naukluft National Park and ending Stage 4 at Bloedkoppie. And once again you wonder: Why do I dash? By now, it is already deep into the night, and darkness and Namibia's spectacular evening sky is your only friend. Stage 5 leaves the flat gravel plains behind as it descends into the visually stunning Moon Landscape. As the sun rises behind you, the landscape all around is set alight by the grandeur of early morning rays. Enjoy the fresh air that dawn brings, because from here, and entering the final stage, wind, dust and harsh desert heat become the norm.
After over 360 kilometres, your end goal comes into sight. The picturesque coastal town of Swakopmund has never looked more inviting. The wind in your face, and aches and pains might even fade into the back of your consciousness as you imagine that ice cold beer, condensation dripping down its sides, waiting for you at the finish line. And when you finally ride over that line, your heart soars and your soul rejoices and the euphoria that sweeps across your being at the knowledge that you did it, you actually made it, overshadows everything that went through your mind in the last 24 hours.
And that is why I dash.
Uncontested as the longest single-stage mountain bike event in the world, the Nedbank Desert Dash is one of Namibia's premier sporting events. Drawing cyclists from across the globe, it is not only an epic challenge to be conquered, but plays an integral role for Namibia as a nation and for Namibia's cycling community, giving our cyclists the chance to compete against international athletes. The event's economic contribution to the country is another tremendous boon.
Alongside the elite cyclists there are other participants who enter as solo, two-man and four-man teams. For many of them the Nedbank Desert Dash is not necessarily a race to be won. For them it is a bucket-list adventure. An opportunity to test their own limits and strive for that sense of achievement. Many also use it as an opportunity to raise awareness or funds for causes close to their hearts. Whether they are cycling for a friend who has cancer, to raise awareness of pangolin trafficking or to challenge their own mental and physical capacity, each participant has an answer to my question: Why do you dash?
"Whether they are cycling for a friend who has cancer, to raise awareness of pangolin trafficking or to challenge their own mental and physical capacity, each participant has an answer to my question: Why do you dash?"
This year, as Venture Media took on the privilege of being the event's official media partner, we designed a campaign to celebrate these reasons: #dashforadifference. Stories upon stories came to light of how passionate Namibians and visitors from far and wide are about the event and their reasons for participating. Among others, we spoke to Uwe Diekmann from Germany, who will be returning this year for the third time as a solo rider. He has yet to complete the race, but comes back again and again to raise funds for disadvantaged children in Namibia. Uwe and his fellow donors have to date raised over N$ 1 500 000 for vulnerable children in Namibia and aim to raise another N$ 1 000 000 this year. As part of his fundraising campaign, they have also been able to support a girl named Anna, who cannot walk, with enough funding to undergo live-changing surgery on her feet.
A new entry to this year's Nedbank Desert Dash is Gideon Nasilowski. Gideon, known as the Namibian Amphibian, is a former Paralympic swimmer. Born with arthrogryposis multiplex congenita (AMC), a condition that causes joint contractures due to inadequate amniotic fluid in the mother's womb and results in fixed joints, weak muscles and bone fibrosis, Gideon believes that his disability should never prevent him from reaching any goal. Through his participation he is raising funds to help further the ambitions of Namibia's Paralympians. Now that's dashing for a difference…
We all have a reason why we push ourselves to the extremes. Why we test limits and work to defy the odds. The Nedbank Desert Dash is one of those ultimate challenges that riders have been training for and taking on for years. Are they working for a cause and not just for applause? Is it for the physical or mental challenge? Is it for conservation or for someone in need? Whatever the reason, this epic challenge will continue to inspire those who are brave enough to push the limits. Rediscover themselves and Namibia's natural beauty. An event that balances cycling, nature and the human spirit.
DID YOU KNOW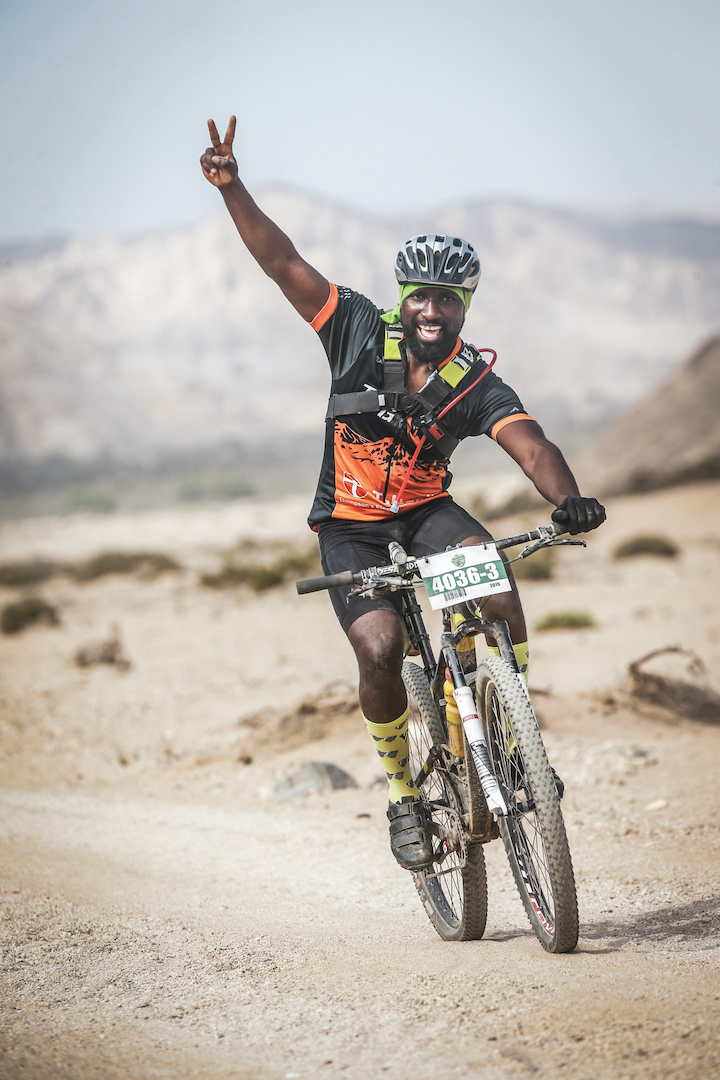 Gideon Nasilowski: "The Nedbank Desert Dash is a gruelling race for able-bodied people, but how awesome would it be for a disabled-bodied athlete to compete in this race?"
Theo Johan Bezuidenhout: "Been there 8 times solo. It is a life experience, soul cleansing, inner reflection of huge proportions and a bucket list adventure for every cyclist."
Allan Vivier: "7.8 billion people on the planet… 1000 Nedbank Desert Dash entries… Why do I do it… because I am one of the 0.000012% that can".
Pierre Lambert: "I dash because it's only +/- 20 hours of pain and suffering and yet there are people in our society who have been suffering for years with cancer, abuse, sickness and more."
Nicola Fraser: "I did my first Dash in December 2019. Prior to that, my only form of exercise was moving from the couch to our outside braai area to smoke a cigarette. Bought a bicycle in September 2018 and started cycling in our neighbourhood with my close friend Janeke in November 2018; at that stage we could barely manage 3-5 km without feeling as though we were going to collapse. In December 2018, I quit smoking and we finished our first 4-man team Dash in 2019! This year, Janeke and I are tackling the Dash again, this time as a 2-women team. Doing the Dash has shown me that I am stronger and capable of much more that I had ever imagined!