ETOSHA NATIONAL PARK – ONE OF AFRICA'S GREATEST
Etosha is one of the best places in the world to view Africa's unique wildlife in its natural habitat. Etosha, meaning "Great White Place", is dominated by a massive salt pan. The pan is a large dusty depression of minerals and clay which only fills with water after heavy rainfall and even then only holds it for a short time. Clearly visible on satellite images, the shallow Etosha Pan is the largest of its kind in Namibia and one of the largest in southern Africa.
GAME DRIVE IN ETOSHA
It's called the Golden Hour. That time of the day when light becomes soft and every plant, animal and person takes on an other-wordly appearance. It can be either at sunrise or sunset. As long as the sun is hanging low over the horizon, the landscape is sure to be dipped in its magical glow. That's the time you want to be out in Etosha National Park. A game drive a few hours before the sun sets is the time when predators yawn, stretch and start their day. It is when the veld unfurls into a totally different world. Anything could happen. The inevitable fall of nighttime comes with skittishness among the animals. No one knows what the darkness holds. The drive ends before things get out of hand, with the striking neon of sunset.
SPOT THE BIG FIVE
Big game, the Big Five, just feels like a fancy animal popularity contest. Like, it's the animals everyone wants to see. Who cares about giraffe? They're just horses with long necks. But a lion? They're great. They sleep all day and run around at night, the females do all the cooking (as in hunting) and the men wear long hair. Sounds fantastic. Who wouldn't want to put them on their list?
But the Cape buffalo made the list! Who took that executive decision? Firstly, they have the same expression as a plank of wood. And the intelligence to match. Sorry, are we being a bit tough here? OK, let's ease up for a minute.
The Big 4 are Etosha's version of the Big 5. They are the same animals as the Big 5, except for the Cape buffalo. Which is probably not a bad thing. It's a trimmed down version of the original list. Herd animals not allowed.
Elephants are the giants of the animal world. African elephants can grow up to 3.3 metres. They live in families, led by the oldest female, the matriarch. Rhinos are not quite as massive as elephants, but they share the curse of wanted horns with the ivory curse of the tuskers. They are also known for being a bit temperamental, especially black rhinos (keep your distance!).
CAMP AT OLIFANTSRUS
The campsite at Olifantsrus in Etosha National Park feels intimate and wild. It is the only camp in the park exclusively for campers, and the result is a refreshingly simple and relaxed experience.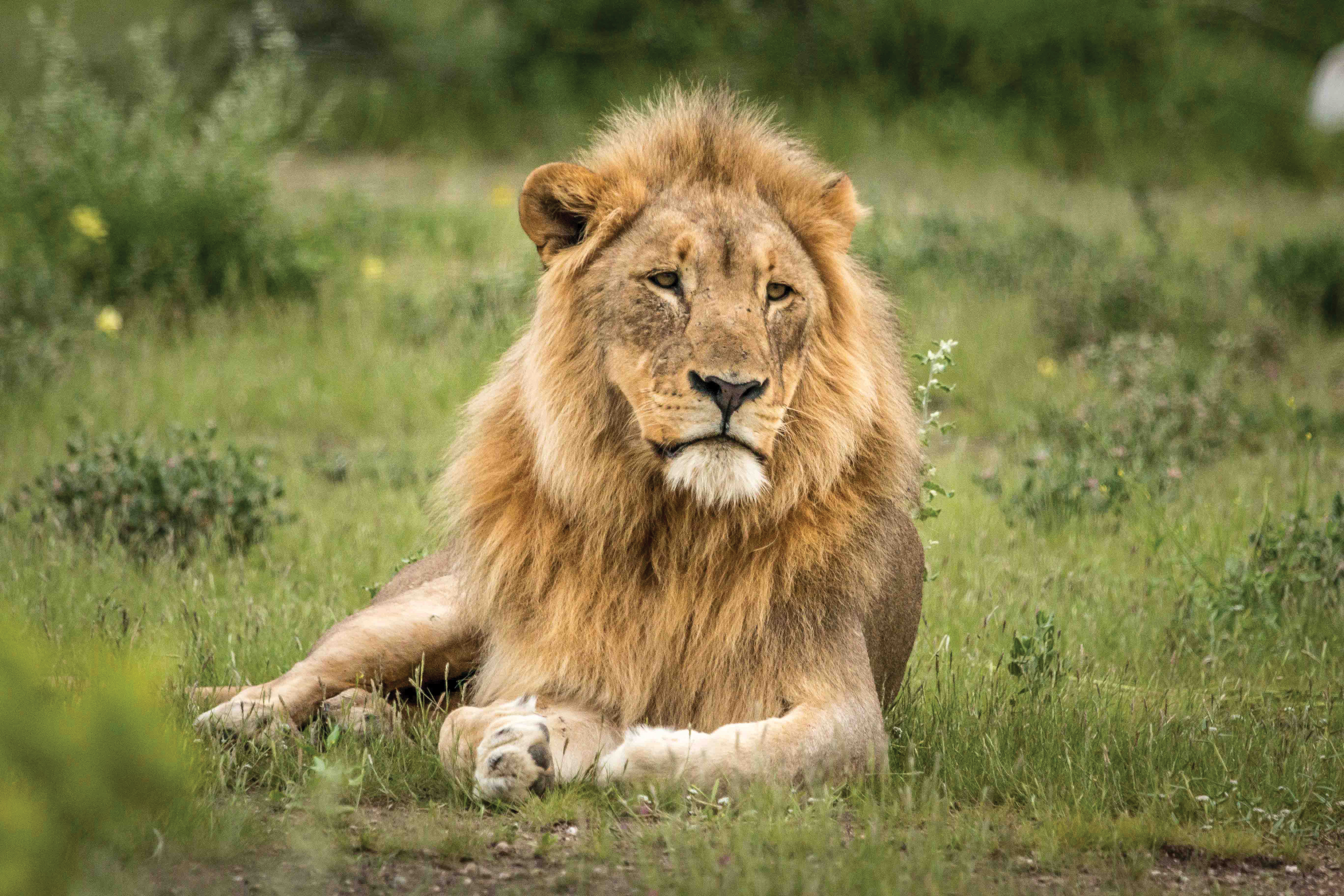 It's believed that their aggressive nature has something to do with their poor eyesight. While leopards and lions are both predators, they have very different styles of hunting. Leopards are solitary creatures, secretive, lonesome. Lions, on the other hand, move in groups called prides and it is the females who do the hunting (apparently the males do the protecting, or so they say).
So now we've got the feminist guys who look impressive on the Etosha plains (elephants), are basically blind (rhinos), love climbing trees (leopards) and take long naps in the long grass (lions). And that's it.
Thank you, Cape buffalo, you are not needed here.
SPOT FIVE SPECIAL SPECIES ON SAFARI
Shy, nocturnal, agile and downright sneaky, here is a list of five mammals you are not too likely to see when visiting Namibia. They are here though, hidden among the natural beauty of the wilderness, and a sighting is a true wonder to behold, so be on the lookout!
1. Pangolin – The only mammals wholly covered in scales, they use them for protection against predators. When threatened, pangolins will curl into a tight ball and will use their sharp-scaled tails to defend themselves. They are currently the world's most trafficked mammal.
2. Brown hyena – One of Africa's rarest large carnivores, in Namibia they occur throughout the country, but are most commonly found along the Namib Desert coastline. They are mainly scavengers but eat nearly everything they can find, including fruit, insects and other small mammals. It is not uncommon for them to travel as far as 40 km in a single night in search of a meal.
3. Aardvark – A nocturnal mammal, aardvarks spend their days in cool underground burrows dug with their powerful feet and claws. They use their strong claws to dig into termite mounds to get to their meal of choice – termites.
4. Bat-eared Fox – This small mammal is known for its enormous ears (which can be over 13 centimetres tall). They are insectivores, with termites making up 80% of their diets. It's not unusual to find groups of bat-eared foxes occupying the same area, something uncommon among other wild dog species.
5. Honey Badger – Pound for pound, this small yet tenacious carnivore has a reputation for being the most fearless animal in Africa. They scavenge for carrion but also actively hunt a large variety of prey, including birds, reptiles and other mammals.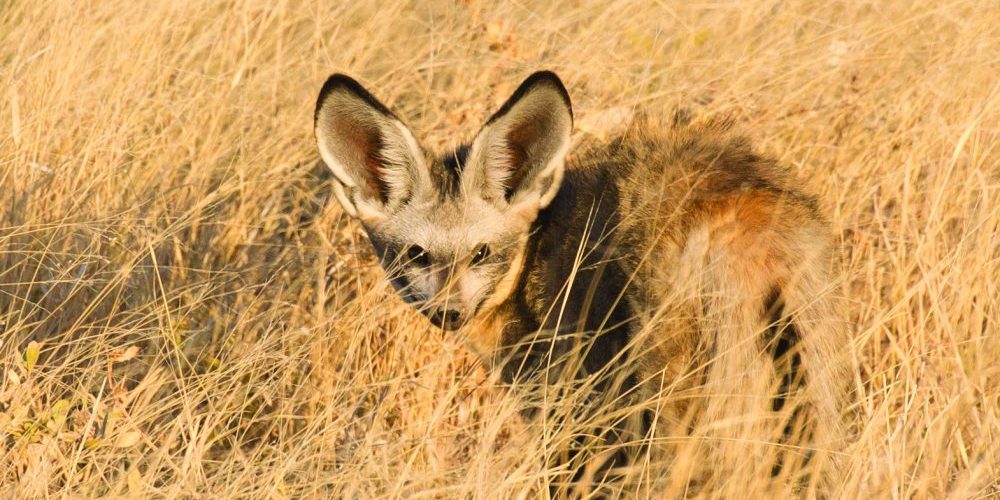 CAMP IN OVAMBO
Spending the night at community campsites is a chance to support enterprise value in Namibia, i.e. community-based tourism.
The rich cultural heritage is a major draw card for visitors from far and near. The customs, traditions, history, beliefs and the languages of the Owambo people north of Etosha are no different. By choosing to stay at a community campsite, visitors are directly benefiting the local community by adding to an alternative means of income. The community campsites of Owambo offer visitors the opportunity to experience the environment, food, music and everyday activities at grass-roots level and thus gain an insight into the local mind-set.
Here are a few community-based campsites to visit during your travels in Owambo:
1. Nakambale Museum and Restcamp
2. Omauni Community Campsite.
3. Ombalantu Baobab Tree Campsite
4. Hippo Pools Campsite
5. Uukwaluudhi Traditional Homestead
VISIT THE NAKAMBALE MUSEUM IN OWAMBO
Located in the village of Olukonda, 14 km from Ondangwa, Nakambale holds more than a century of character. Surrounded by mahangu fields and housed in the old mission house, the thick walls of the museum could tell a thousand stories.
The name Nakambale was given to one of the first Finnish missionaries, Martti Rautanen, who lived in the mission house with his family. He was known for wearing a hat that if turned upside-down, resembled a type of Owambo basket, called okambale in the Ngandjera language. Martti erected the first church building in northern Namibia at Olukonda and completed the translation of the Bible, initiated by various missionaries, into Oshindonga. In addition to the museum, Nakambale has a campsite (and a replica of a traditional Ndonga homestead), making it a destination to add to your itinerary as a good overnight stop to absorb a serving of history, culture and charm. To complete the visit, pre-book an Oshiwambo meal and partake in a walk through the village.
BUY A TRADITIONAL OSHIWAMBO DRESS
Be sure to shop around town, whether it be in Owambo or in the capital, for a beautiful and bright traditional Oshiwambo skirt or dress. These garments made of pink, purple and black-striped fabric, known as odelela (the skirt) or oshikutu sheenulo (the dress), are worn in times of celebration or for joyous gatherings.