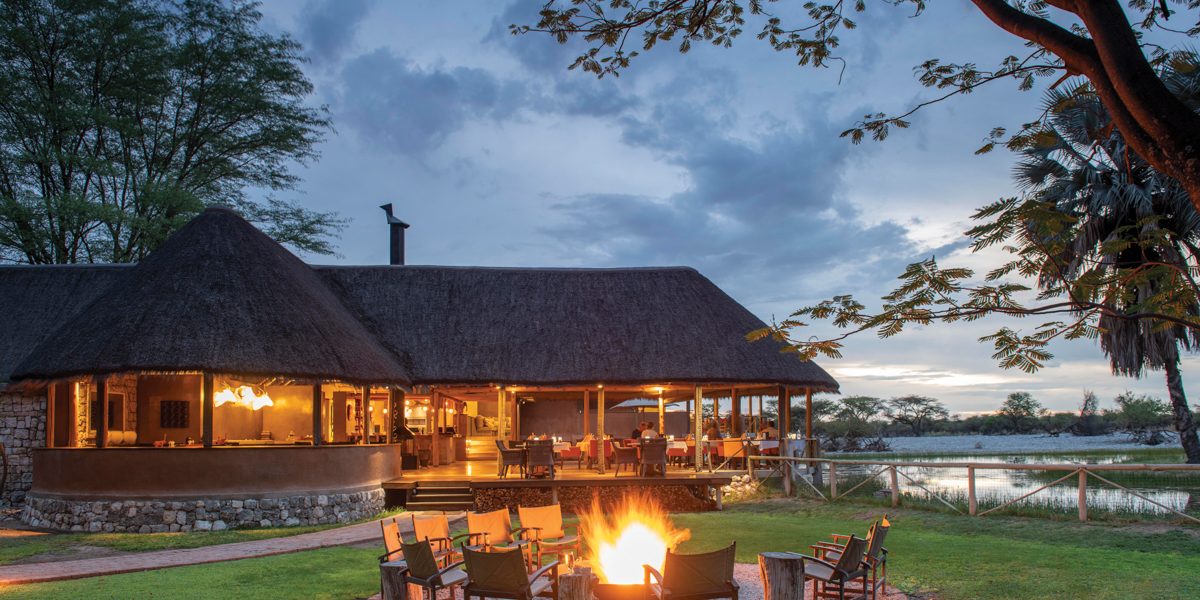 Sharing the eastern boundary of Etosha National Park, Onguma Nature Reserve is a beguiling mixture of sophistication and relaxation, of elegance and the earth. In the local Herero language, Onguma means 'the place you don't want to leave', and the 34 000-hectare private reserve certainly lives up to its name.
Onguma Camp Kala – sophisticated, authentic, intimate
Onguma Camp Kala is an unparalleled lodge elevated on wooden decks with a central tower, resembling a termite mound, blends perfectly with the surroundings and offers panoramic views of the natural waterhole. The lodge offers several vantage points for game viewing, including a lounge, cocktail bar, and a beautiful deck. Guests can also enjoy a gym, spa, yoga deck, and a photographic hide. The four spacious suites, each with its own butler, feature private decks, wood-fired hot tub, plunge pool, and shaded sala, perfect for an armchair safari or stargazing.
Onguma The Fort - iconic luxury
Onguma The Fort, unlike any other, boasts an idyllic location, providing guests with breathtaking panoramic views across the waterhole to Etosha Pan, perfect for enjoying stunning sunsets. With its elegant north African-inspired architecture, The Fort comprises of a Sultan Suitewithin the main lodge, aHoneymoon Suitewithwood-fired hottub and 11 Bush Suites, each located 50 metres apart, ensuring complete privacy. The Bush Suites feature a fireplace, air conditioning, a spacious bathroom with indoor and outdoor shower, and long wooden decks with private outdoor seating area and sun loungers to unwind and relish the extraordinary views.
Onguma Tented Camp – the ultimate in safari chic
Onguma Tented Camp offers a charming 'Out of Africa' atmosphere, the epitome of understated safari chic. The camp's intimate setting around an active waterhole features 7 tented suites, each a unique structure of Etosha stone and triple-layered canvas on decks. Designed with attention to detail, the suites boast air conditioning, both indoor and outdoor showers, a gorgeous modern interpretation of an old zinc bath, and a private seating area to observe animals quenching their thirst at the waterhole.
Onguma Forest Camp – for a secluded bush-lodge experience
Nestled amidst the trees is Onguma Forest Camp, an intimate and relaxed bush lodge with a character that gives guests a glimpse into the authentic yesteryear safari-style. The main lodge area, featuring an elevated fire pit on a deck overlooking a large waterhole, and its 11 bungalows are adorned with thatched roofs and wooden furniture, enveloped in nature. The down-to-earth friendly character of the lodge andstaffembody thetruespiritoftheNamibianbushexperience.Awellstocked wine cellar complements hearty meals served under the stars.
Onguma Bush Camp - ideal for families
Onguma Bush Camp offers guests a stunning waterhole around which the main guest areas are positioned, ensuring there is something to see while enjoying every meal. Thatch, wooden decks and canvas ensure a quintessentially African atmosphere. With 18 rooms available, the camp caters to singles, couples, and families. Since the camp is fenced, it is perfectly suitable for families, allowing little ones to enjoy our Young Explorer's Walk and stretch their legs while parents relax around the pool or enjoy an Onguma-tailored massage.
Onguma Tamboti Campsite - the ultimate in luxury camping
Onguma Tamboti Campsite boasts a lovely restaurant overlooking the waterhole – for days when you just want to relax and enjoy a hearty meal. The 25 campsites are well placed to offer privacy and each one is equipped with generous private ablutions and ample plugs for charging cameras and equipment. The swimming pool, Wi-Fi and small supply shop ensure campers want for nothing! Game drives can be booked at reception.
Onguma Leadwood Campsite – an intimate camping experience
Nestled in the shade of large leadwood trees are 6 private camping sites, each with their own ablution, wash-up area and power point. Leadwood campers can also make use of Onguma Bush Camp's facilities including sipping sundowners at the waterhole or cooling off in the swimming pool. This is the perfect campsite for exclusive use and to explore the eastern side of Etosha.