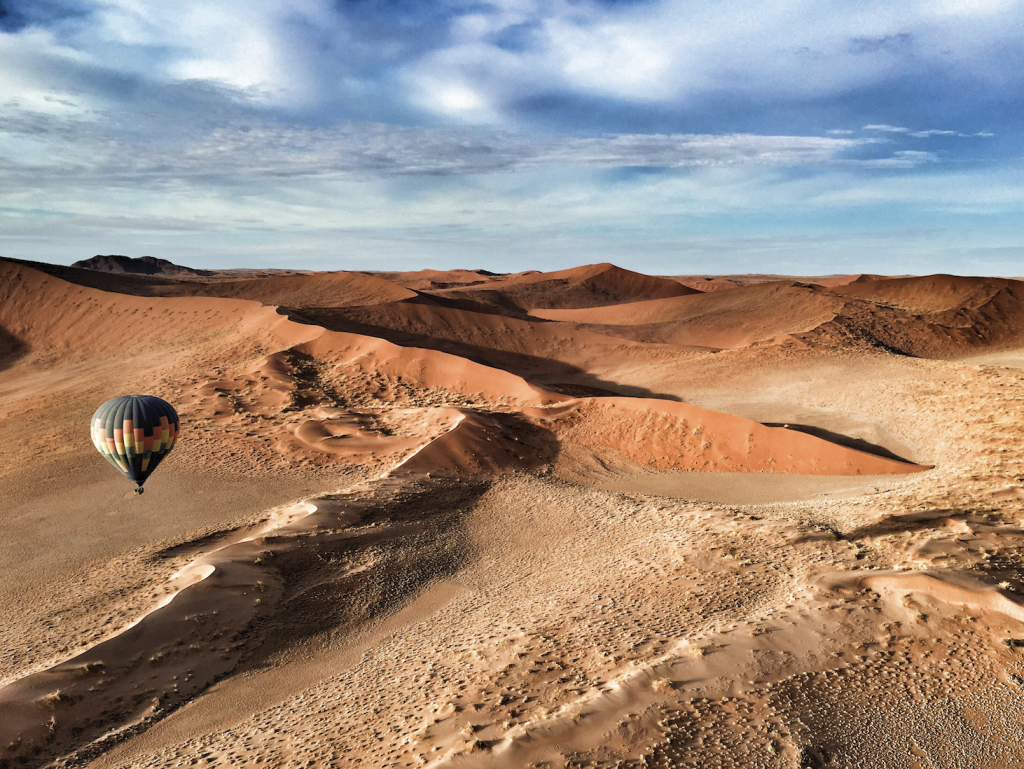 Namib Sky Balloon Safaris
Imagine yourself floating across gentle waves of air as the first golden rays of a bright morning peek over towering sand dunes and rugged mountain tops. It is an otherworldly glow. It is early still, yet the Namib Desert's famous sunshine beckons from the horizon as you drift along. Below, a sea of sand creates a mosaic of hues and patterns on the earth's surface. Soft flowing lines intermittently interrupted by white pans make up the visage of this ancient desert.
There is nothing quite like a hot air balloon safari over the Namib, and who better to experience this phenomenal adventure with than a vetted company that has been gliding across the African skies for 31 years. Namib Sky Balloon Safaris was founded in 1987 by Eric and Nancy Hesemans. Today their son Denis and his wife Andreia are at the helm and take guests on this magical quest. Join them for a spectacular sunrise flight over the surroundings of Sossusvlei. With pick-up points and transfers from more than 10 lodges in the vicinity, it is an opportunity open to anyone travelling through this part of the Namib.
Take to the skies and discover the best possible views of one of Namibia's most astounding natural phenomena. The company's eco-friendly modus operandi, contributions to the local community and friendly service will warm your heart and leave a smile on your face. Take pictures, breathe it all in and enjoy every moment of floating on sunshine.
Make Booking
To make a booking, we will need to know:
Full name of each passenger
The passenger's cell phone number and lodge/camp
Any important information we should know about concerning health, allergies, or even if a little overweight…
We will contact you as soon as we receive the booking form to to confirm your reservation.
Exact pickup times may vary slightly and will be reconfirmed with you the day before your flight at your lodge reception – or by SMS if you provided us with a cell phone number.
Cell: +264 81 3042205
Tel: +264 63 683188
Fax: +264 63 683189