A wet and wild wonderland
The lure of the area is its wild and untamed quality, which gives visitors a peek into authentic African lifestyles. Perennial rivers and expansive floodplains, lush sub-tropical vegetation, an abundance of game and birds, and scattered settlements provide a complete change of scenery from the rest of the Namibian landscape. The 575-kilometre tarred Trans-Caprivi Highway provides easy access to the region.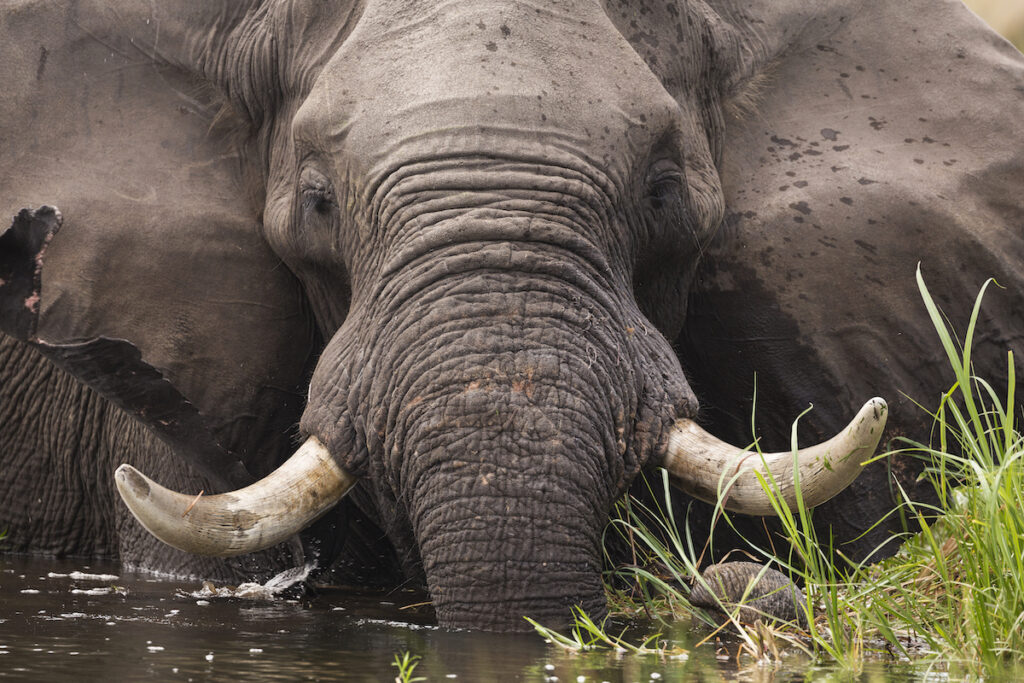 THE KAVANGO EAST AND KAVANGO WEST REGION
The Okavango River and its broad floodplains make the Kavango East and Kavango West regions considerably greener than the rest of Namibia. The river forms a natural boundary between Namibia and Angola for more than 400 km and is the lifeline to the Kavango people, who make a living from fishing, tending cattle and cultivating sorghum, millet and maize.
MANGETTI NATIONAL PARK
Previously managed as a game camp for breeding rare and endangered species such as black and white rhino, the Mangetti conservation area was proclaimed as the Mangetti National Park in 2008 to protect its
wildlife and vegetation and provide tangible socioeconomic benefits to local communities through careful tourism development.
Situated some 100 km southwest of Rundu in the Kavango Region, the park extends over some 420 km2 and is managed jointly by the Uukwangali Traditional Authority and the MEFT. Animals seen here include eland, blue wildebeest, African wild dog, leopard and hyaena. Additional species such as common impala, gemsbok, kudu, giraffe and Burchell's zebra were translocated through the Enhancing Wildlife-based Economy in Rural Areas Project from Etosha National Park and the private sector.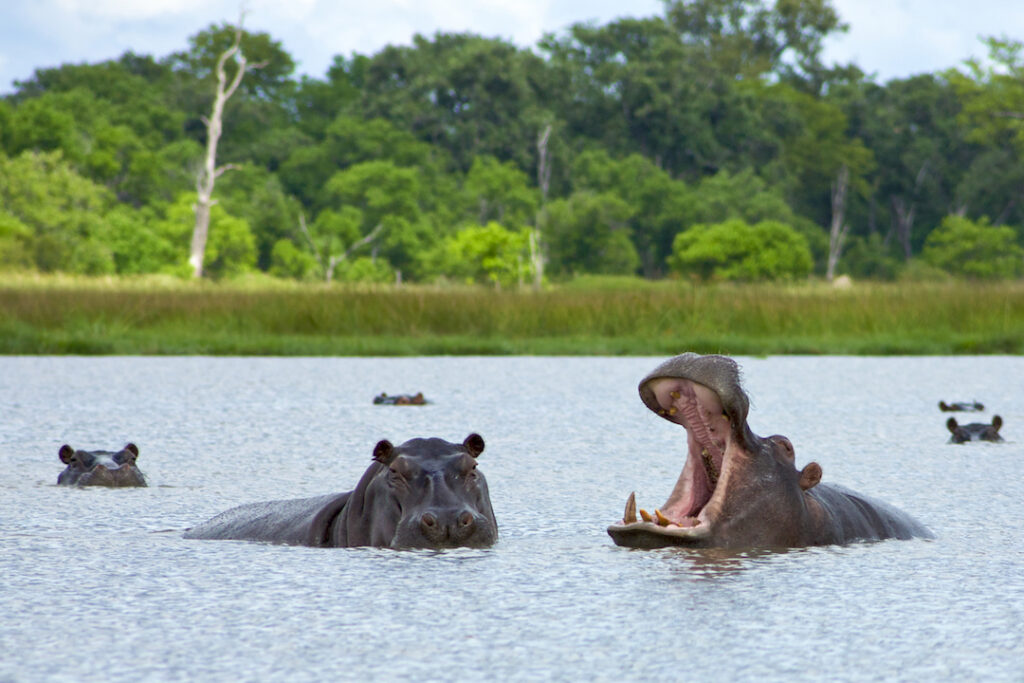 BWABWATA NATIONAL PARK
In 2007 the former Caprivi Game Park, proclaimed in 1968, was incorporated into the 6 100 km2 Bwabwata National Park, inclusive of the Kwando or Golden Triangle, and the Buffalo and Mahango (the former Mahango Game Park) core areas. This heralded a new generation of parks in terms of an integrated approach towards park management. Bwabwata was designed not only to protect the environment, but also to accommodate the people living in the park.
The central area of the park is zoned for community-based tourism, including trophy hunting, human settlement, and development. Cattle movement is controlled to prevent the spread of diseases, and communities living in the park or neighbouring areas are given conditional tourism rights to establish – either on their own or in joint ventures – tourism facilities within the park confines.
Bwabwata has three distinct areas: the perennial Okavango and Kwando rivers, their riparian vegetation and floodplains characterised by reedbeds, floating grass mats and woodlands with jackal- berry, mangosteen, apple-leaf, knob- thorn and wild date palm; a parallel system of drainage lines (omiramba) that run west-north-west or east-south-west; and deep windblown Kalahari sands that form dunes between 20 to 60 metres high and support deciduous woodlands dominated by seringa, Zambezi teak, wild teak and several wild raisin and bushwillow species.
The park is sanctuary to 35 large game species – including elephant, buffalo, impala, reedbuck, red lechwe, sitatunga, hippo, giraffe, zebra, wildebeest, Chobe bushbuck, tsessebe, and sable and roan antelope – and numerous small- game species. Predators such as lion, leopard, cheetah and African wild dog also occur in Bwabwata. Because there is no surface water, most species congregate along the Okavango and Kwando riverbanks and at the Malombe and Ndwasa pans in the northeast. Visitors are cautioned that there are crocodiles and hippos in the river. Bwabwata takes its name from a village in the park, and refers to the sound of bubbling water. It forms part of the 278 132 km2 KavangoZambezi (KAZA) Transfrontier Conservation Area, the world's largest conservation area. The infrastructure and facilities of the park were upgraded in 2012.
POPA GAME PARK
Rushing rapids, melodious birdsong and the rustling leaves of shady, riverine trees are sounds that typify Popa Game Park. Located on the Okavango River opposite Bwabwata National Park, Popa Falls is famous for its lush setting and the sound of the rapids cascading down the rocky descents in the river. Over 400 species of birds have been recorded here. Tigerfish, threespot and green-headed tilapia are just some of the game fish that occur in the Okavango River, making it a popular destination for anglers. Popa Falls Resort (managed by NWR) was renovated in 2014.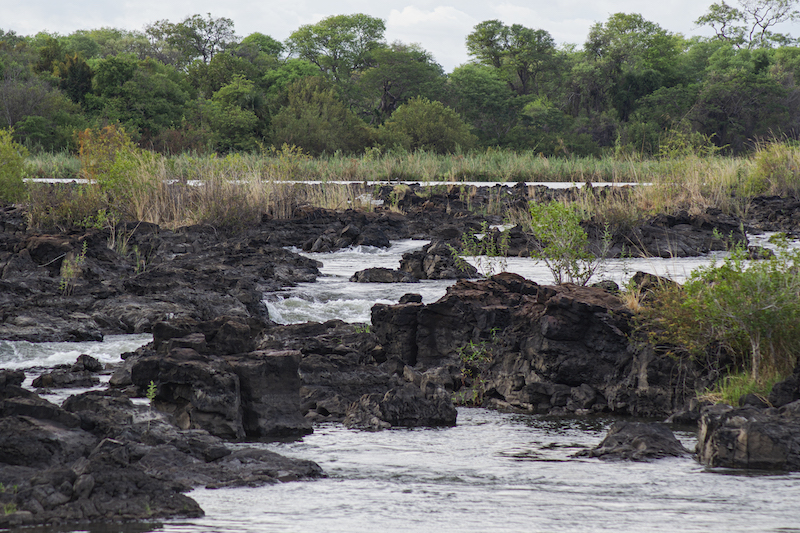 Roan antelope in Mudumu National Park
MUDUMU NATIONAL PARK
Centred on the Mudumu Mulapo fossil river course, this vast 1 010 km2 expanse of dense savannah and mopane woodlands bordered in the west by the Kwando River, was proclaimed a national park in 1990. Dense mopane woodlands are at the core of Mudumu, the combination of forest and water ensuring a wealth of wildlife. The park is home to small populations of sitatunga and red lechwe, while spotted-necked otter, hippo and crocodile inhabit the waterways. During a game drive, animals likely to be encountered are elephant, buffalo, roan antelope, kudu, impala and Burchell's zebra.
The park is alive with more than 400 species of birds. Of particular interest are slaty egrets, Hartlaub's babblers, greater swamp-warblers (in the papyrus swamps), chirping cisticolas, and swamp boubous. Other noteworthy species include black coucals (an intra-African migrant), coppery-tailed and Senegal coucals, wattled cranes (floodplains) and rosy- throated longclaws. In the backwaters and swamps, African pygmy-geese and comb duck (between September and April), Allen's gallinules (between December and April), and African and lesser jacanas are found. The infrastructure and facilities of the park were upgraded in 2012.
NKASA RUPARA NATIONAL PARK
The 320 km2 Nkasa Rupara National Park, proclaimed in 1990, has the distinction of being the largest wetland area with conservation status in Namibia.
The park is characterised by a complex network of channels, reed beds, oxbow lakes and islands, with the focal point on Nkasa and Lupala, two large elevated areas that punctuate the floodplains. Up to 80% of the park can be inundated during wet periods, leaving Nkasa and Lupala isolated as islands amid a sea of water. The same bird and animal species occur in Nkasa Rupara as in Mudumu National Park. Camping is not permitted in Nkasa Lupala National Park, but campsites with shared hot-water ablutions, braai places and water taps, as well as self- catering chalets are available at Rupara, 3 km south of the park entrance.
Please note: Visitors must be completely self-sufficient in respect of food and fuel. Four-by-four vehicles are necessary here and two- vehicle parties are essential during the rainy season.
KAVANGO ZAMBEZI TRANSFRONTIER CONSERVATION AREA
In 2011 a treaty was signed at the SADC Summit in Luanda, Angola, by the Presidents of the republics of Angola, Botswana, Namibia, Zambia and Zimbabwe, which formally and legally established the Kavango Zambezi Transfrontier Conservation Area (KAZA TFCA).
Spanning over 444 000 km2 (similar to the size of Sweden), KAZA is the world's largest conservation area. It includes about 40 formally proclaimed national parks, game reserves, community conservancies and game management areas in Angola, Botswana, Namibia, Zambia and Zimbabwe. Namibia has designated Bwabwata National Park, Mudumu National Park, Nkasa Rupara National Park, Khaudum National Park, Mangetti National Park, the Caprivi State Forest and Conservancies, and community forests between and around these protected areas for inclusion in the KAZA TFCA. Over 400 bird species have been recorded in this area. A key objective of a TFCA is to join fragmented wildlife habitats into an interconnected assortment of protected areas and trans-boundary wildlife corridors. This will facilitate and enhance the free movement of animals across international boundaries. The KAZA TFCA incorporates the largest contiguous elephant population on the African continent, while it also includes some of the world's renowned natural features and tourist attractions, such as the Victoria Falls and Okavango Delta, the largest Ramsar Site in the world.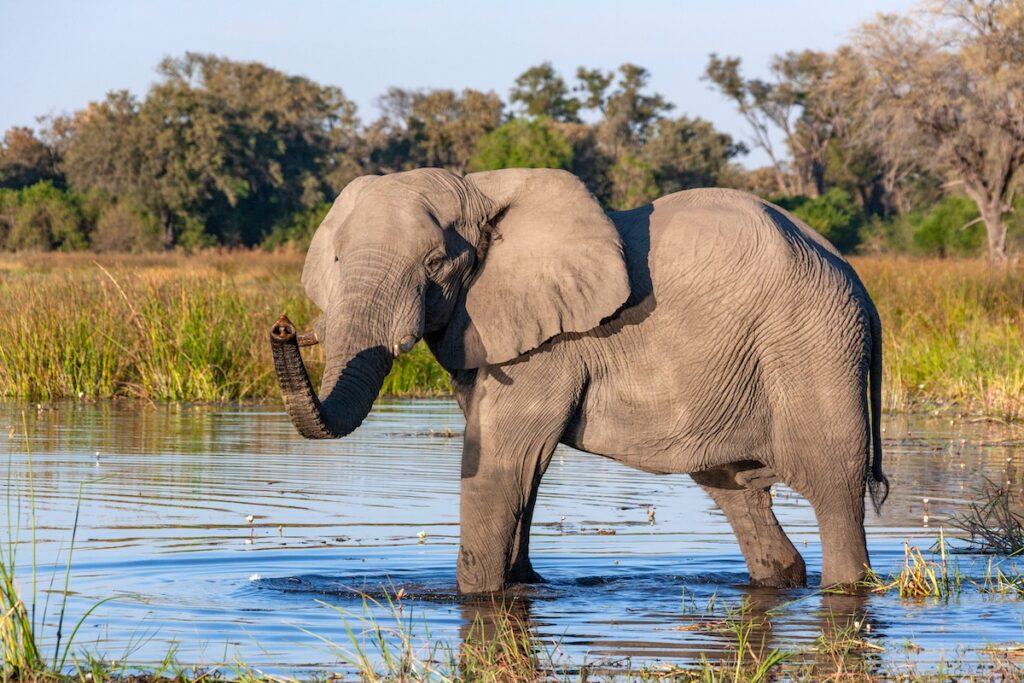 Rundu
The main town in the Kavango Region is Rundu, situated on the banks of the Okavango River. This is the home of Namibia's well-known Kavango woodcarvers. Their ancient craft, handed down over generations, is a flourishing industry today. Wood carvings are made and offered for sale at the Mbungura Woodcraft Cooperative, which has its mainworkshop and office in the town. Another worthwhile stop is the Rundu Open Market to taste some local fare and experience the unique culture of the region. Here you'll also find the Kavango Basket Project, providing a source of income for local women. FlyNamibia offers several flights a week to Rundu from Windhoek. Thirty kilometres east of Rundu is the Sambyu Museum, an art and crafts facility displaying woodcarvings and traditional crafts from the Kavango Region and southern Angola, and stone tools found locally.
Katima Mulilo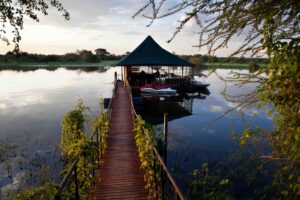 Taranga Safari Lodge is one of very few luxury bush lodges in the Rundu-Kavango region. With 2 Deluxe and 8 Classic Luxury open fronted riverbank tented cottages, situated amongst tall riverine trees and a green campsite, guests are offered ample opportunity to take in the sights and sounds of the African bush with views across
Read More »